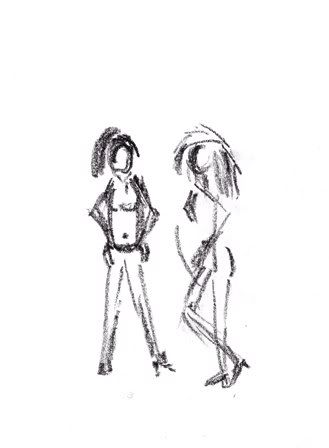 Picture yourself in eighteenth century England. I would rather be in Liverpool, walking on cobbled streets late in the evening, drunk like a skunk, heaving out of a tavern called 'The Turtle's Tale', slightly distracted by the cat calls and hoarse laughter of the hookers clamouring in the shadows, high heeled, their pelvis swaying and then suddenly the clippity-clop clippity-clop, is it that beautiful hooker stalking me or is it a carriage horse from a nearby lane? I remain blurred.
The ballrooms of Victorian England are full to the brim, the velvet, silk, artificial mannerisms and obviously the awful clippity-clop of the heels striking a rhythm louder than the piano music cannot keep pace with the swish of the clothes or hushed conversations in the corners.
The rooms of Mr. James Steiner, Osteopath and Podiatrist to her Royal Highness on the second floor of St. Georges Street, West End London are full of woman of all class, the rich and the famous, high class hookers and con women with their surnames ending in St. Claire, all having a common ailment, the burning feet syndrome or more specifically heel pain.
They have been treated albeit unsuccessfully by the streetside quacks with magical balms, dipping the foot in warm horse's urine sometimes hitting the plantar aspect with wooden hammers and sometimes tickling the nerves with a peacock feather, but to no avail.
The osteopaths used massage, sometimes corkscrewing the foot in directions as the muse dictated and sometimes dipping them in hot and cold water simultaneously keeping the banter of irrelevant conversations at the same time.
The Harley Street physicians looked at them with disdain, 'It's the foot that is meant to cause pain and the mind that must tolerate this pain' they said
Russian criminals posing as magic charlatans, having escaped from Tsarist Russia found refuge in London. They advertised their exotic titles, wares and equally exotic powers. Many beautiful well heeled women with heel pain fell to their charms. Their long beards and moustaches took the attention of these women from their foot sometimes even permanently.
Robert Wentworth an anatomist and a barber surgeon went to the extent of exhuming a dead body and dissecting the foot. He found nothing significant but went on to explain in his treatise the fascia, nerves and the calcaneal bone which individually or in combination may cause such a pain.
Eighteenth Century India, still under the various Maharajas, it's beautiful women always indoors showed diseases common to a tropical climate but rarely a heel pain or a painful foot that refuses to be cured.
Beautiful nautch girls danced in havelis and even on the bare back of Maharajas while holding on to a tree trunk. The right amount of pressure with their heels on their spine would relieve off the back ache. Unani Medicine flourished and people were healed off their aches and pains.
Modern Orthopaedics talks about a bony projection called calcaneal spur which might irritate a nerve or create a bursa that would cause pain. It is also referred as Plantar Fascitis or inflammation of the fascia underneath the foot.
I have operated on these spurs but unfortunately pain was never relieved. In fact the patient was left with an ugly scar and a chronic pain from the healing tissues.
The various treatments that may be followed are -
Decreasing activity
Stretching in bed the calf muscles
Taping in standing position
Application of Ice
Injection with Hydrocortisone
Massage
Losing weight
Arch Support
Extracoporeal shock wave therapy
A Below Knee Plaster cast for six weeks
Non Stroidal Anti-Inflammatory Drugs
So what might be the cause of foot pain, is it footwear that was prevalent in Western countries, can there be a genetic component or is it a symptom of a wider systemic disease like the rheumatoid disease? I won't be able to tell. My friend Glory Sasikala, a well known poet from Chennai suffers from this ailment. The physicians suspected that she might be having a thyroid or a diabetic disorder trying to connect the foot pain to a metabolic disease. Her blood sugar and thyroxin levels are found to be normal.
Meanwhile I think of the clippity-clop, the beautiful high heeled damsels wishing if only I could have been there during that period.
This first appeared at Desicritics.org
» read article