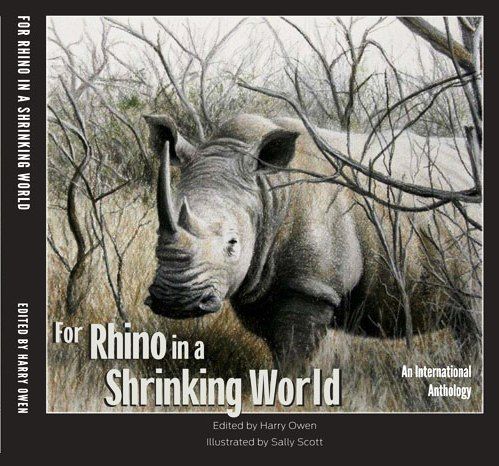 Riding the midnight river, we reached a new dream called summer- Pritish Nandy
Publishing a poetry book on rhino extinction is like reaching home only to find that a rude summer we once loved has changed into a concrete landscape, photos of my home and peacocks on my veranda are only tales, now that I have for my children. Life, love and rivers of many such thoughts, of humans and animals roaming freely lies cluttered in my dreams. Explaining the process of publishing Harry Owen's international anthology in simple words remains a not so simple task. In creating a movement towards extinction awareness, Harry and his fellow poets have shared shades of a fractured dawn within an increasing globalization indulging in increasing trauma, finally loosing the sense of pain to a long lasting drought.
Publishing poetry, right from realizing a colour on a blank canvas to building in strange shadow lines and finally creating a sustainable structure, remains a challenge. For me, as a trauma surgeon, I need to regroup my values far more frequently reviving them in the involvement of the making of such a poetry book. I asked myself a number of times, "Why the rhino?", it's possibly because I too have lost long back disclosures, on trauma driven late nights at Niger, Eastern Congo, Zimbabwe and now in Mdantsane, South Africa. .While the eye simply records interpersonal violence and the most extreme trauma, the mind blunts itself to changing horizons. The killing of a rhino is a representation of man's own gradual extinction in sky less pandemics closer than one thinks.
This book will remain, Harry's dreams that he shares, his confidence in my own recurring illusions from where this book evolves and in Rentia Ellis's power in subscribing to these thoughts and indulging in building walls of a far dynamic outcome, than we ever believed.
The Rhino lives; this book with its extraordinary poetry will live too.
Amitabh Mitra
» read article