Splinters of a Mirage Dawn , Anthology of Migrant Poetry of South Africa makes it to National NIHSS Book Award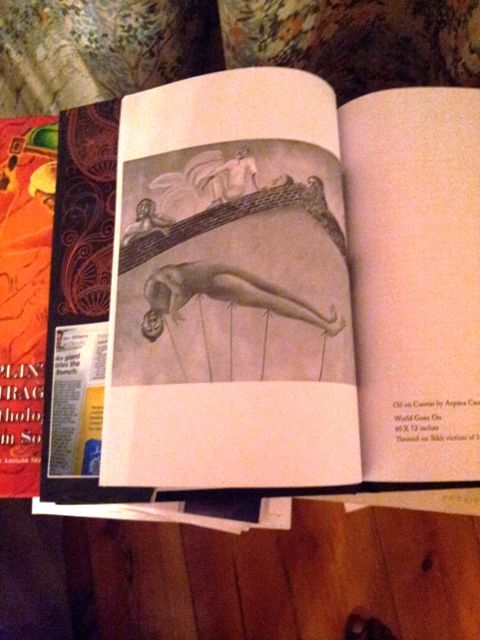 At a glittering function held at Parktown, Johannesburg, our book Splinters of a Mirage Dawn, Anthology of Migrant Poetry of South Africa immortalized itself in the section 'Edited Fiction Volume' as the only one shortlisted. Dr. Naomi Nkealah received the citations on behalf of the book and its contributor poets. The Hon Minister for Higher Education, Blade Nzimande, gave away the honors. This recognition seals the achievement of creative and poetic voices of millions who came to South Africa, becoming part of it, participating shoulder to shoulder in developing, ethnic understanding and integrating within the contemporary African poetry movement.
From the Editorial:
There is a war within and there is a war without. Fighting such wars in a life threatened by barbed wires and milestones, 'health' sometimes is an unheard word. The bullet only grazes the subterranean cortex, fibrous scars spring out trying to patch widened surfaces. An African Bush War creeps within surreptitiously. The Somali Spaza shop owner sells bread through apertures from his shack; yet living is a tight rope walk on an immigrant value. The war in Mogadishu continues to beckon him from where he once escaped for a better living.
Kole Odutula, internationally acclaimed Nigerian poet and author of 'Diaspora and Imagined Nationalities' in his review of the book in African Writers.com, aptly titled 'Immigrants, Irritants, Relocations & Dislocations in Text'
I hope the "war within and the war without" alluded to by Amitabh Mitra, who I am not scared of referring to as one of the immigrants-in-chief, in his editorial, would one day have a resolution and all children of African and Asian continents can live in harmony as the pigeons live in nature.
Renowned Zimbabwean poet Chirikure Chirikure writes:
One's emotions rise up and down, as one moves from one poet to the other. Some pieces make you drop a tear, while others make you chuckle through their ability to make a sad story very much light-hearted. This anthology is a solid step in the overdue journey towards a world where we all sing from the same page, in our varied, individual voices.
Ben Williams writes in Sunday Times, October 2013 about this book, mentioning the poetry of Adebola Fawole, titled, 'Times and Places'
Contributors
Adebola Fawole
Amitabh Mitra
Arpana Caur
Campbell Macfarlane
Femi Abodunrin
Geoffrey Haresnape
Graham Vivian Lancaster
Jean-Marie Spitaels
Lucas Mkuti
Naomi Nkealah
Nikki Kirby
Philani Amadeus Nyoni
Raphael d'Abdon
Renos Nicos Spanoudes
Rodwell Makombe
Sarah Rowland Jones
Sarita Mathur
Sharon Moeno
Tendai R. Mwanaka
Tsitsi S.A. Sachikonye
Victoria Pereira
Splinters of a Mirage Dawn is jointly edited by Amitabh Mitra and Naomi Nkealah. It has the art on Migration by the internationally acclaimed Indian Artist Arpana Caur. A Poets Printery Publication