Book Review of Stranger than a Sun by Abha Iyengar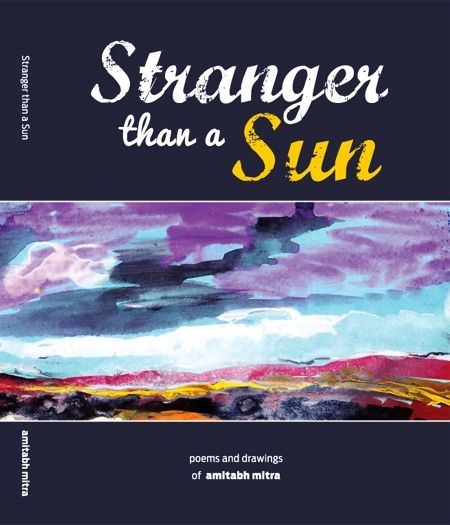 Stranger than a Sun – Review by Abha Iyengar
Poems and drawings of Amitabh Mitra
Published by The Poets Printery (South Africa)
Date of publication: February 2015
Longing caught in a Fort's Sunlight
"In an ageless complete, you are the reversal, you are the scroll, and you remain the substrate of my many lives." These lines, said in the first poem, seem to form for me the basis of this collection of prose poems.
Each page breathes with the smell of charcoal, for the drawings on each page are charcoal renderings, mostly of Gwalior Fort, and the havelis of Gwalior, where the poet seems to be looking for a home, a lost love. For him, " Home is the nowhereland within each of us."
The poet travels, to Bhutan, to Arunachal Pradesh, to Calcutta, but he takes Gwalior with him, he sketches Gwalior even in these cities, for that city has the memory of a past love. It could be just a love born through the exchanging of glances, or an evening of shared chai in rain, but it is transient, only the memory holds. And so it is that sunlight of a strange, unforgotten love that he always dreams of. "Your garara emblazoned with fine drops on a Gwalior street…"
But for him, that is a love he will hold forever and lose forever. As he says,
"Losing you long back then was perhaps an ancient rite, longer than I had ever thought…" and "loving you are now years hurtling past…"
There is the connectivity of a place to the memories of love, and the poet does this beautifully, through the drawings and sketches done by charcoal, and through the drawings and sketches done by words. In fact, the words are more like a river that flow over you, submerging you in their longing for a time gone, a place held dear through memory, a desire expressed of dreams and a loss felt over not decades, but over aeons of time, unmeasured.
Says the poet, "Believing in the fort meant believing in love and believing in the sun." And again, somewhere else he says, "It's you and the fort rushing back, its last echoes remain in just another sun." You try to trace the path along the sketch lines, and peer at the arches to perhaps find the lovers standing there, under a sun, under love.
Abha Iyengar is an internationally published author, poet and British Council certified Creative Writing Facilitator. Her acclaimed novel 'Many Fish to Fry' is published by Pure Slush Books, Australia