Poetry and Art of Mdantsane – Exhibiting at Medical School, Warwick, UK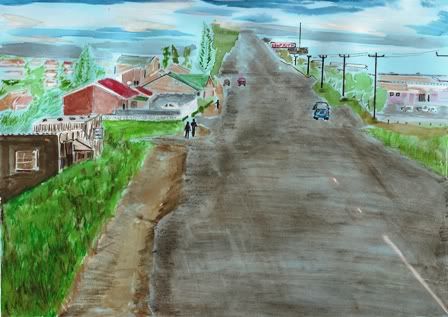 Road to Cecilia Makiwane Hospital
International Symposium on Poetry and Medicine, 7 May 2011
Warwick UK
Medicine, Art and Poetry has been together since the time of Hippocrates and the History of Medicine is abundantly endowed with examples of Art, Literature and Poetry.
Renowned medical journals like Lancet and the British Medical Journal (BMJ ) have published scholarly articles on Medicine and Poetry.The 2011 International Symposium on Medicine and Poetry to be held at the Medical School at Warwick, organized by the University of Warwick would be focusing on the role of Poetry in the field of Medicine with a special mention on HIV.
My Art and Poetry dealing with my trauma work in the Cecilia Makiwane Hospital, Mdantsane has been accepted for viewing at this conference.
The same art on the township of Mdantsane has been published as a coffee table book titled Mdantsane Breathing and has been reviewed by Daily Dispatch.
This is the first time that Art and Poetry from a township hospital of South Africa would be exhibited at a Medical School in UK.
Mdantsane goes to Warwick, UK.