Harry Owen's Non-Dog, Reviewed by Adam Donaldson Powell and Geoffrey Jackson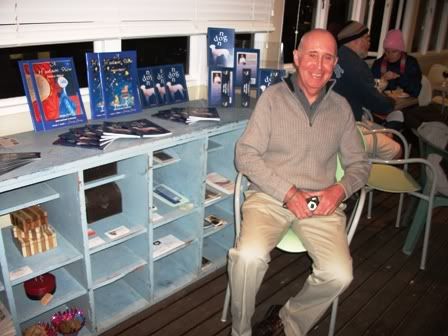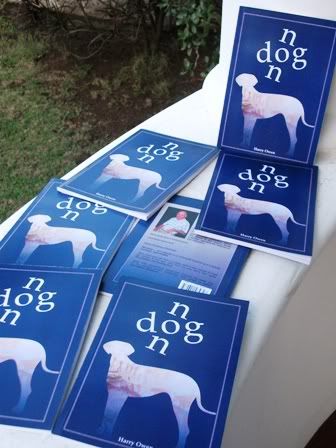 Harry Owen's Non-Dog
A Review by Adam Donaldson Powell
NON DOG … intimate poems from a mature poet.
«Non dog», written by Harry Owen, 66 pages, published by The Poets Printery, South Africa, ISBN 978-0-620-46472-7.
«Non dog» is a short and intimate collection of poems which exudes painterly imagery that is carefully crafted in a style perhaps more reminiscent of the previous century than the current one: Mr. Owen has full command of a palette of words that is «natural» in virtue and in usage. Whereas many talented and less-talented poets today attempt to «wow» their readers by juxtaposing strange combinations of powerful words in order to show expansion and freshness, Mr. Owen (in my opinion) uses the simple power of a large reserve of accessible words and images – big and small – to provide the reader with the psychologically rich concurrent experience of the «inside looking out» and the «outside looking in». He often makes references to flora and fauna in order to set the stage for an intimate revelation of individual and collective humanity. He has a real talent for «rounding off» his poetic thoughts both simply and also in a way that conveys universality. These endings resonate as though they could not possibly have been written in any other way, and never seem contrived or to have been written as «lonely anchors» that are mentally placed long before the rest of the poetic work in question.
There are many wonderful passages and poems to cite, including:
Composting the Air (the final stanza), page 16:
So this is a joy, a bubbling over
into barbet, hornbill, mousebird, dove —
but what when it all comes worming up:
will we know ourselves, brothers, or want to?
rhetoricity, page 17
i mean to mean
but don't know what it is
i mean to mean
you and me
me and you
which is the more privileged?
our presence here is
the only meaning i can hold:
this bed, this time
me in you, you in me
this sleep
Returning to England, (last lines), page 23:
I'm returning to England: fair enough,
our seeds were planted there, indigenous
as far as anyone can tell, but now
it's among cycads, aloes, euphorbias
that I bleed to be – at home with you.
My crown of thorns has shredded me
and it's stupid to pretend
I don't mind.
Two very excellent poems that especially show Mr. Owen's literary maturity are:
«Dreaming», page 26 and «Positioning», page 45.
This is a small book that says quite a bit. It is worthy of several readings, as each poem contains much to be gleaned on successive readings.
– Adam Donaldson Powell, 2010, Norway.
Adam Donaldson Powell is a multilingual writer, poet and a visual artist in Norway. He has a number of books to his credit, the latest one, a science fiction prose poem/novel, 'The Tunnel at the End of Time' has created a huge fan following in Europe.
Review of Non-Dog, Poetry Collection of Harry Owen
Geoffrey Jackson
Non-Dog is Cheshire-born South African poet, Harry Owen, in a friendly mood with his guard down:
All day,
racing together around the field , eyes bright,
reading the earth's text with their noses
… or just
keeping me quiet company
here in the house,
each is simply herself:
neither one is, despite everything
non-dog
In a few apposite words, Harry sketches in his animal companions. In only one other poem, where he celebrates his father's memory, does he allude to other humans. What then is the subject of Harry Owen's book 'Non-Dog'?
I would say it is primarily a paean to his new home in South Africa. So many new things have caught his imagination and so many new impressions have etched themselves upon his brain in the relatively short time he has lived there. What of the monkey with its tail dangling over the taxi rear view window?
A monkey tail waves from the rear wiper
of Dumza's taxi
Or rather more sinisterly as he describes the news – "machetes, black smoke of blazing tyres, tribal thump of drums, spears". It is as if, mentally, the threat is only just around the corner.
Otherwise, he has time to take note of the flowers. In 'Loquats,' he describes aloes.
Yet aloes are assegais; they thrust like red springs
from dry earth …
make a crimson flood plain of the veld.
To change the image (or reinforce its phallic significance!) they are no longer spears but the male organ.
From this tight pubis of serrated leaves
it rises like a tentative penis.
Not all is babbling brooks and sweet flowers, however. Many aspects of life are gist and grist to Harry Owen's flowing pen and sharp observant eye as in
black beetles, soporific and slow
idle across the worn brick of the stoop.
Or then again
… soon the mantids
will return to their confessionals
There is a humorous play on preying and praying mantids as well as a fine description of the fore-limbs being raised in the gesture of prayer (prey-er?).
Many of Harry Owen's images are images of the sea. For instance, in 'Purgatory' he imagines "this sharing / of yourself with white-fronted plovers." He also imagines returning to the primordial sea from which we have come. Many poems are conscious of death but this is not a morbid pre-occupation, rather a phase one goes through, when one reaches one's sixties as Owen has.
Harry Owen lives in Grahamstown, which he celebrates as follows:
And here the golden-haired sun stipples
my stoep's autumn brickwork.
In fact, he is a widely travelled man having lived and worked in various parts of England and California, too, for ten years. He hails, however, from Cheshire – indeed has been Poet Laureate for Cheshire – and he still returns there. "Strange how I still say 'home' when it isn't," he writes.
In a way, however, England still is home but in another way "home" is among cycads, aloes and euphorbias, which are flowers in his South African garden, native to South Africa and very different to home in England. The English rose and the delicate English summer have been supplanted. He describes his visit to England flying into Manchester, the closest airport to Cheshire:
Between breaks in the cloud: England
…
the fog closes over it
like a guilty secret.
Indeed it does – wisps of cloud cover the land , clear again and finally cloud envelops the plane entirely as it comes in to land on the tarmac that appears rather suddenly after all under the landing gear of the plane.
Owen calls on his roots also in 'Chestnut Scouse', which is a Liverpool dish. He points to
…the exotic guttural of its name – Scouse
[as] Outside the cicadas sing
above a chorus of frogs, African
stars sprinkle a spice of frangipani …
The direct contrast of old and new land is conjured up by this food from the 'old country', from Liverpool which, like Manchester, is just across the county line from Cheshire.
Another side of South Africa is testified to in 'Dry':
The soil in my head is dust,
the air is a dessication
and the poet goes on to explain that it has not rained for two months. 'The Language of Hooligans' recalls the lack of respect of certain young people for civilised values and relates, "They growl an empty patois of delinquency." It recalls the very first poem where the monkey is hanging onto the rear window and a human hand is being thrust out to the poet begging for the price of a meal.
One of my very favourite poems along with 'Non-dog' is 'Inner Landscapes'. In this poem, Harry Owen reaches into and begins to describe the flight of fantasy in his own mind. The poem is in very poetic language:
… tell us
something of fossils in broken stone, of
ancient spiders trapped in amber, jealous
gods and galaxies …
Compare now designer Rentia Ellis's picture on the book cover, which shows African rock paintings transposed on the silhouette of a dog. 'You can't tell a book by its cover' but this image sketches in a lot of the history and heritage of South Africa in a simple evocative picture. Harry Owen's own poetry and own imagination are in juxtaposition and complementary to the design of the jacket.
Let me leave the reader with just a couple of images from Harry Owen's poems. The first is called 'Positioning':
Here from palm and wild banana,
where bright yellow weavers trace…
… [know] that from this place
all horizons are reachable.
Again an image of a shoreline, this time from 'Taking the gold' (medal):
Here the sea sprints for the tape, crosses the line,
all surf white grin…
waves crowd the shore…
and this girly beach
is demure, coquettish, turning away.
Geoffrey Jackson has been an intrepid TESOL instructor at 5 universities and 4 colleges, blown off course from England to Holland, Finland, Hungary, Oman, Saudi Arabia and, in the Roaring Forties, to Denmark. A self-described European cosmotrollop and Americanophile with New World dreams, Geoff is the Poetry Editor for Fullosia Press.