Talking on Mdantsane Breathing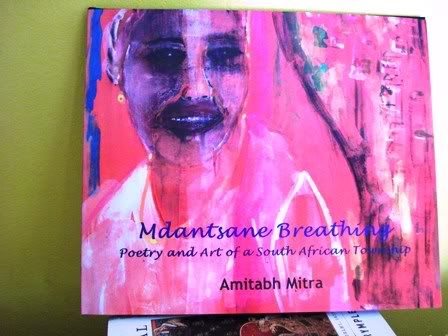 Mdantsane Breathing (MB) is a story of finding hope—and history— in one of the most bleak places on earth. It is about a young ideal physician-artist from the land of great Gandhi moving into the land of great Nelson Mandela, becoming a participant-observer of epic struggle against apartheid and recording the individual/collective journeys of recovery and re-construction in the racially-divided country.Dr. Mitra brings humane and healing touch to the wounded psyche of a predominant black township, the largest in South Africa, through his vibrant simple colours and elegant words, making the MB a universal social/literary document of innate human resistance to any totalitarian system. It is a tribute to human beings' questioning and ultimately dismantling of every oppressive political system via people power. It is also celebrating joy of everyday living and everyday situation…recalling Neruda's style where the mundane becomes the poetic exalted and a new poetic idiom for the struggling voiceless people that do not have an aesthetics of their own. It is universal and inspiring: an Indian discovering the humanity in a foreign culture of separation and exclusion and finally, a home among the so-called aliens, becoming one through assimilation and love for the host community…very much like the modern migrants as wandering Ulysses and putting down roots in soils different.
Sunil Sharma
Author/Poet
Dr. Mitra commemorates a crucial space in South Africa's legacy of human resilience, a township that warrants immediate recognition because of its importance in the saga against apartheid. Having already played a significant part in the history of its healing, he now brings his talents as writer and artist to evoke poignant moments in that history, and to bring awareness to the rest of the world."
Shreekumar Varma
Author/Poet
"Mdantsane Breathing is not a book, it is an experience. Rivetting sketches and brilliant words hook you from page one, forcing you to go back again and again and relive the ecstasy of being in the presence of a genius."
Ramendra Kumar
Author/Poet
As the name goes … Mdantsane Breathing, poet, painter Amitabh Mitra has created a flesh and blood township with the face of a smiling child and psyche of an undying, indefatigable mother nature with a bounteous body yet to be discovered, yet to be traversed and yet to be chronologically fixed …
Mdantsane Breathing is a versified diary of everyday walk through the lanes and by-lanes of a living land-mass, not much known to a world far aloof. If we have ever heard of Mdantsane, it was a matter of chance and then we soon forgot about its existence in the map of civilization. With Amitabh Mitra's 'Mdantsane Breathing', we come to know of Mdantsane, probably for the first time, as a pulsating human habitat. Good for us, we realized that this second largest township in South Africa has much more to offer than just its name. This diary of everyday life and its challenges leads us to a vibrant landscape with scrappy concrete. We are witness to the unflagging green life peering out of withered and dead heaps and this is the greatest strength of this township. Even after so many years, Mdantsane still bears the brunt of the Apartheid Revolution. The aftermath has given it the strength to sing carols even with a bleeding bullet. Dr. Amitabh Mitra is proud to be associate with such a township which has surely contributed in his better understanding of life and every page of his book echoes with a rare optimism and faith. In 'Mdantsane Breathing' Amitabh has rightly brought out into the world the versified-story of a glorious legacy of tolerance, forbearance and immense positive energy. When he writes 'children laugh at nothingness' we immediately realize that this laugh is not a sudden burst of external joy but it has something anthropological about it and it is drawn from an inspiration probably much older than the children themselves. Thanks to Amitabh for leading us to this joy that stems from nothingness, agony and deprivation. His present book has unleashed the small pleasures of life that otherwise go unnoticed and remain camouflaged in the colours of pain. When we talk of colours we remember how Amitabh essays out an easy array of transparent life with innocent brush strokes, at times with child-like doodles in pen and ink. It is his innate sensibility and sensitivity that has given him the eye to see life beyond the seemingly sordid facade but we cannot deny the fact that his geographical relocation at Mdantsane and Cecelia Makiwane Hospital has a great part to play in rebuilding his own psyche. As one reads through the pages of 'Mdantsane Breathing" one becomes aware of a truth that this township and its people literally dance to the rhythm of life like 'aloe and wild grass shake to jazz moments'. We do not know where Mdantsane begins or where it ends…. The author himself feels that it begins at the smile of a child or in the dreams of an one-legged man and to add to his feelings, I feel it ends in our hearts where agony waits to bloom into a cactus flower or flow out into a river may be ….
Nibedita Sen
Artist/Poet