The Poetry of Noon Meem Rashid and Mdantsane
Noon Meem Rashid is the greatest of Pakistani poets who ushered an era of modernism and free verse in Urdu poetry.
This poetry recitation in Urdu with an English translation has the essence of abstraction and the sheer beauty of feelings that the Urdu language can convey.
http://en.wikipedia.org/wiki/Noon_Meem_Rashid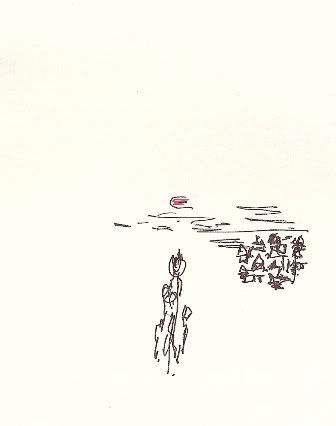 i hear the black wind blowing down mdantsane
dehydrated and desperate in each bullet pocked zone
nu 12
nu 13
nu 14
tiny lights camouflage the night
days secrete memories of a lost oblivion
a sky has lost faith to fluids and hospitals
it's the black wind laughs one legged griffith
in his shebeen
luvuo takes on outside
noon meem rashid's poetry cajoles
'hawa ke siwaye koiee zinda nahi hain'
nobody is alive except the wind
nobody.
Poem and Drawing by Amitabh Mitra