Wordfest 2009, Grahamstown, English Museum, Performance Poetry and things like that…
9th July early morning, Louis rings me up
'I am on my way to your place', I tell him on the phone as I drive down to his home on the beach front
Louis is waiting, with his guitar; he would be giving the musical background to my poetry today at the Wordfestival in Grahamstown. Louis Viljoen owns the Harp Recording Company. He produced my CD of love poetry, 'A Slow Train to Gwalior'
We are off to Grahamstown.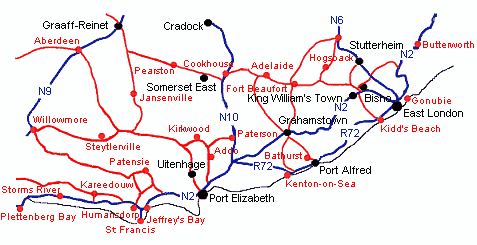 Jan Hennop, Senior Journalist from Daily Dispatch, premier news daily of South Africa has compared my poetry to sweet Lassi in his Dispatch blog
Let's hope, we keep up to his words.
First stop is Port Alfred.
I ask Louis about the picturesque river side chalets and people staying there. I have always wondered about these resident billionaires and their cardiac pathology. Politician Billy Nel told me that a new Public / Private Partnership hospital has been built recently here and if I would be interested in such a place. I am a trauma person, I told him and I think Port Alfred doesn't have much trauma going on. People from all over come here to escape any trauma, momentary or long term that has been happening in their lives.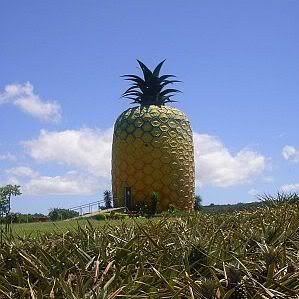 Next stop is Bathurst.
A small quaint town situated on the fringes of Sunshine Coast on the highway R 72. It is famous for the Big Pineapple as we pass by it. We are definitely in the pineapple country. The dogs here prefer eating pineapples. It is the hub of the largest pineapple growing areas in South Africa. The Bathurst Inn and Pig n Whistle Hotel here was established in 1832. I asked Louis about the farmers who frequent the pub sharing rum hazed evenings with ghosts of English settlers. There are many Antique shops and Artists Communes that seems to thrive on each other's despondence.
The road from Bathurst to Grahamstown is bad. We encountered lots of potholes around. I asked Louis the reason for these holes being called pot holes and why they shouldn't be renamed as poet holes and why I can't be the Mayor of Ekhubeni or Cacadu Municipality. Louis keeps quiet. Suddenly I remember Art Garfunkel's lyrics from Sounds of Silence-
And the people bowed and prayed
To the neon God they made.
And the sign flashed out its warning,
In the words that it was forming.
And the signs said, the words of the prophets
Are written on the subway walls
And tenement halls.
And whispered in the sounds of silence.
Louis an old rocker belongs to the times of KC and the Sunshine Band. I told him, 'Louis we have been singing this number all along. This is a song of the early sixties. Have we ever thought about the words, its meaning and should we not sing since we cannot explain certain lyrics. Then, is there a necessity to explain one's poetry even if it makes you feel happy after reading or listening to it'.
Louis wanted to jump out of the car.
My continuous bantering about contemporary poetry was getting too much coupled with the fact that the bad road from Bathurst to Grahamstown left much to think about in the physical and the spiritual state of our health. I had brought along my Anti-hypertensive tablets.
Grahamstown, finally, the great university town that compares itself to Oxford and Cambridge, still lives up to its heritage. Robert Mugabe prides himself as one of the alumni of Rhodes.
We drive down to Shoprite Checkers parking place. Nobody can get lost if one reaches this supermarket anywhere in South Africa. I ring up Debbie Landman. Debbie is the Librarian of the National English Literary Museum at Grahamstown.
We are lost in the maze of streets and people; there is an element of laughter everywhere. I get this terrible urge to live and study here. Louis wants to be in the centre of the town because of his belief that history confirmed that geography starts from the centre of the town.
Debbie is standing outside a wonderful old building that has a signboard, National English Literary Museum. Debbie and her group of friends have been archiving the South African literature here. Inside, we meet Lynne also a librarian and Crystal Warren, a researcher in this institute. Crystal is the editor of 'New Coin', a South African poetry journal which showcases the best of South African poetry. The journal is being published since many years. I told Crystal that I have the December 2008 issue of 'New Coin'. Debbie showed me my file that has Hudson Views, Inyathi and all my other publications till this day. It is possible for any researcher to go through all my work published as a printed word or on the World Wide Web. It is a great feeling to be a part of this great institute.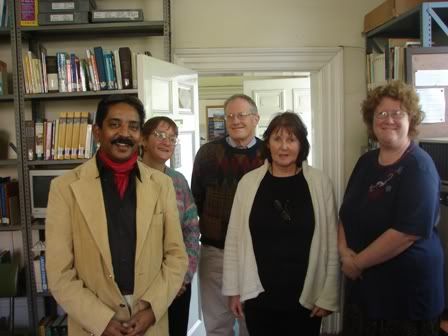 Crystal takes us on a guided tour of the museum. There is an exhibition on African authors in the exhibition hall. A dehumidifier runs in the sanctum sanctorum of this place where alphabetically all records are kept. I saw bound copies of New Coin going back to many years kept in pristine condition. Crystal showed us the section of South African poets and writers who have been translated in foreign languages. She told us that they have been promised a new building. I saw the name of my poet friends Harry Owen and Rustum Kozain on a poster hanging there.
Malcolm Hacksley is the Director of the Institute and has the greatest responsibility of preserving South African Literary Heritage. A great person with a lot of humour, I may suggest to him that a state of the art printing press along with book binding facility should be attached to the NELM so that small time publishers like us can use this incorporation to the best of our ability. It won't be a good idea to pay a commercial printer if we can pay NELM and get better results of our endeavours.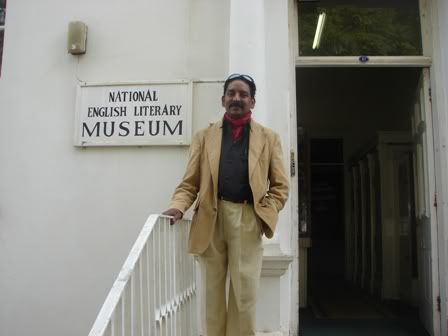 We leave the museum for St. Peters Building where I would be meeting Professor Chris Mann. The rendezvous is at the Writer's restaurant on the first floor. Dr. Mann is a linguist and a Professor of Poetry at the Rhodes University in Grahamstown. He is an internationally renowned poet having received many awards and is the convenor of the Wordfest which is a part of the annual Grahamstown Arts Festival. The festival attracts participants and visitors from around the world.

The writer's restaurant is bustling with activity. A crooner in the corner is playing his guitar blues. I find Dr Mann sitting with many friends, poets and writers. We are introduced by him to all his friends. He orders lunch for us. 'Dr. Mitra and Mr. Viljeon are our guests for the festival' he tells the chef. I feel honoured. The restaurant reminds me of many fruitful hours spent in the company of such great friends at the coffee house of Jawaharlal Nehru University in New Delhi in the seventies. Somebody seems to be discussing Tariq Ali's views on the fall of the Berlin Wall. Beautiful girls in feelings of disarray are in rapt discussion. Marxist interpretation of my love poetry, is that still possible in the present times, I had this fleeting thought. Moscow and Prague, days when poetry was just one long silence in love and socialism was all that mattered. I never knew its brittleness then.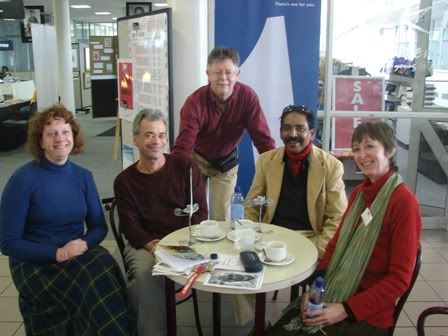 Carol Leff is there. 'Do you remember me' she asks. 'Definitely Carol'. She looks the same. I met at her home in the serene surroundings of Hogsback and later at a workshop on complimentary medicine that I had organised in 1999. Carol Leff is an Aromatherapist and a Poet. She works at the Institute of Study for English in Africa at Grahamstown. I had the pleasure of publishing her work in the print poetry journal, 'A Hudson View'. She has my book, 'Tonight, An Anthology of World Love Poetry' which she had planned to use while introducing me. Unfortunately on that very day, she had lost her voice to some strange viruses of Grahamstown. I got to know, Mark Wilby, a documentary filmmaker who was also sitting there. Ingrid Anderson is a writer. She belongs to Natal and has been attending the festival since few days. She later wrote that she had liked my presentation.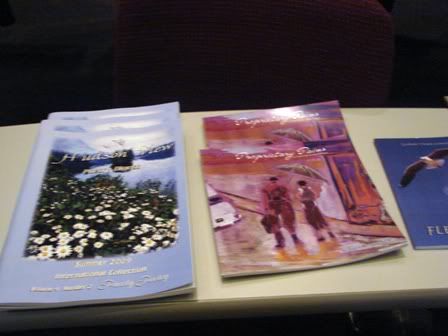 Dr Mann has already organised students who are my hosts. They take care of everything from rehearsing the introduction to testing the clip mike and the film on the giant screen. They even printed my name and had put it outside the Lecture theatre.
Finally, it is 3.30 pm, students, visitors, writers and poets have started taking the seats. Dr. Mann arrives with Carol. A gentleman talks about me in the background. Reminds me of the silence at Ritu's Boutique in Kolkata when Miss India Kavita Bhambani did the catwalk in the seventies.
I start talking, talking about poetry, art, music and life in general. I tell people that poetry is no longer a prisoner of confines, confines of class room of English literature, confines of the hallowed corridors of a university, confines of the colonial art of writing poetry but something much more than that. Poetry I believe belongs today to the man of the street. Its merging with art, music, theatre and films is as important as just the written word itself.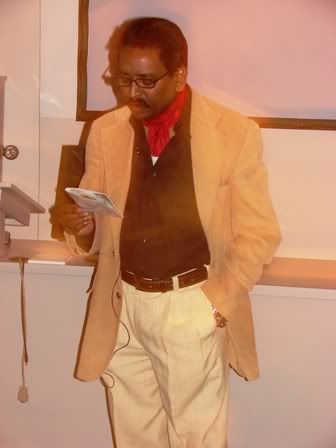 The screening of my poetry film clips starts. They are of duration of five minutes.
I start my performance poetry, love poetry extempore with the music of Louis Viljeon. Clapping all over, I feel happy. Finally I read a few poems from my books. It was nearly over. I asked Dr Mann. He asked me to recite another poem.
So I thought let it be Pritish Nandy's – Another performance work. Taking my cue Louis starts strumming the guitar -

You were not the first girl I loved
Nor was I your first man
Yet when we first made love
Our bodies stammered on to a guiltless landscape…